It was an honour and privilege to be at SaaStr London. Founder, Jason Lemkin, and his crew of 'Pirates and Romantics', put on a great show for Europe's tech funders and tech hopefuls.
The main theme, borrowed from Zuckerberg, was "The year of efficiency' which was spot on.
The hangover from the last three years of irrational exuberance was tangible. Humbled investors were busy talking down prospects and setting expectations about lower valuations. Speaker after speaker warned entrepreneurs they should expect to bootstrap or eke out their ventures with the funds they already parlayed. A tough message.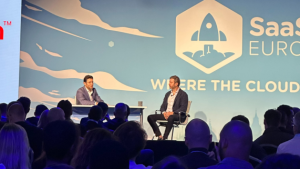 VC talks itself down
Some of the advice was just plain blunt. "You are unfundable" was the reaction to one startup founder after he described his business as "Post Series A". Growing at less than 65%? "Not suitable for venture funding". Ouch. So why is a whole industry talking itself down so much? It's a question I had to ask. 
There was a lot of signalling here, but also a real sense of reinvention. Times are tough for VCs. Crypto blew up. Apple possibly just changed the game for the 'the metaverse', an expensive folly until now. But most of all, bank interest rate rises make the large risks of backing startups, even scale-ups, look way less appealing at present.
But, in tech things can change. Saastr is a grown-up industry conference, so there was a balance of end-of-an-era sentiment and well-meant, in fact generous advice, of which more in our next posting.
The new mood of realism about founding and funding  risky tech startups is to be welcomed. As Category advisors, we love helping exceptional innovators realise just how hard they need to strive harder to prove they are different to the chasing pack. That's why category thinking is more critical now than ever. Want a low valuation? Look like everyone else.
Come out hard, fast and focussed
Beneath all the doom and gloom, the 4,000 or so gathered in London's East End all know deep down that B2B software is a fabulous space. As one operating partner admitted to me, "This is a great time for Tech VCs'. The implication? They can invest in fabulous and hype-free teams who will focus on revenues not just frothy valuations.
It's also a great time for Category Design. Take the opportunity to build a great software Category while no one else is paying attention and you differentiate your business more. Bootstrap it now, do all the hard 'Thinking Work' and come out hard, fast and focussed while others are fighting with disappointed expectations, depressed valuations and under-impressed funders.
It was always this way really. Nobody said it would be easy. But Category leader after Category leader have been founded and grown fast during the toughest of times whilst others had their heads stuck in the sands of survival.