As more money follows startups working in the Instant Grocery Delivery (IGD) category, we investigate the rise of quick commerce and how category design can help leaders prepare for the next big Category? 
With a focus on hyper local partnerships and quick delivery, the instant grocery delivery (IGD) category is heating up with new players raising hundreds of millions of dollars in venture capital and waging a fierce turf war for customers. Think Turkey-based Getir; Germany's Gorillas and Flink; UK's Dija, Zapp, Jiffy, Weezy; US-based JOKR, Gopuff, and so on. The valuations are mind-blowing too: Getir (total funding: $1 billion, last valuation: $7.5 billion); Gorillas from Berlin (total funding: $335 million, last valuation: $1 billion); Flink (Germany-based, $300 million raised); Zapp ($100 million raised); Dija ($20 million raised and just acquired by Gopuff); Jiffy ($7 million raised). 
But not all entrants to the category are successful, like Kozmo which burned through $280 million in capital back in 1998 and failed to become profitable. 
However overall, the category is growing and the players seem to have cracked the formula to the $28 billion market. Who will win and supersede the category is the billion-dollar question right now? We think category Design will be the eventual differentiator. 
Beginnings of the fast delivery model
The category began shaping in 2005 when Amazon rolled out its two-day delivery model (and later same-day with free shipping) called Amazon Prime for millions of users. Inside Amazon, teams feared the cost of the program may sink the company as customers were saving money shopping on Amazon rather than driving to the store!  But of course, it all worked out in the end with the cost of Prime shipping turning out to be far more than covered by the growth in customers and purchase cycles. Today Prime has a staggering 200 million members and drives $25 billion a year in revenue.
Early category formation mistakes
In the years since, a new crop of companies has proliferated the market promising a better version of the original grocery delivery model i.e., by offering a variety of convenience store items at affordable prices in high-income neighbourhoods around the world. All this within minutes on your doorstep.
The original category leaders in online grocery services made a few mistakes in the model, paving the way for these new players. The original leaders would accumulate large quantities of items (that you would find in a traditional grocery store) in warehouses. As many of them were perishables, they would often incur huge amounts of waste especially when the demand would fluctuate. But the new players in the ultrafast delivery category take a different approach. Instead of stocking themselves like a grocery store and then setting out to find customers, they stock a dark store with a few thousand products and aim to generate demand via hyperlocal advertising, digital marketing, and superfast delivery.
Enter the new wave of 'ultrafast grocery' players 
The pandemic was a game changer in the proliferation of this IGD category. Quickly realising a gap in the market, a string of VC-backed startups rolling out fast grocery deliveries for last-minute vegetable and snack on customers' doorstep. The image from the Sifted article below shows the explosive growth in the market in the years between 2020-21.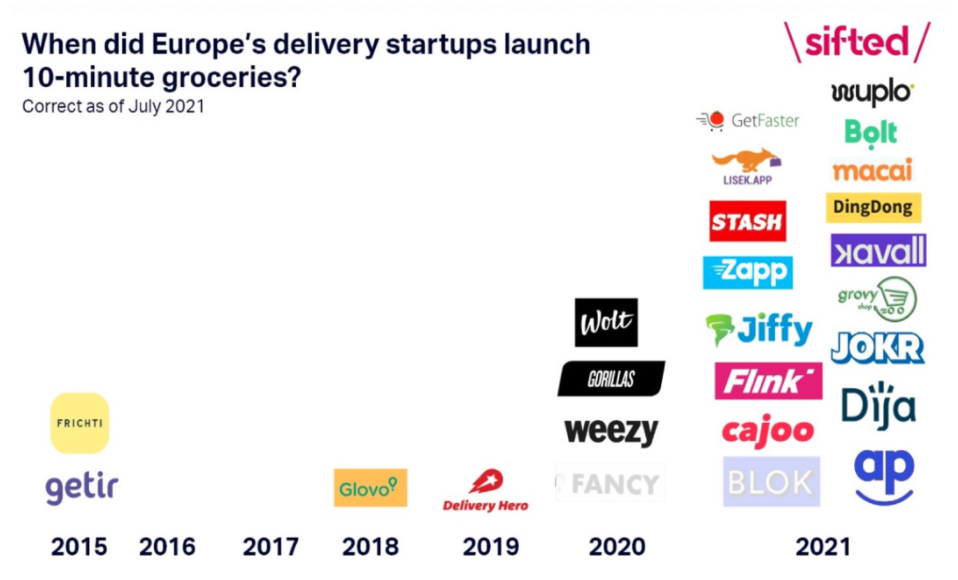 Besides new players, food-delivery platforms such as DoorDash and UberEats have also entered the IGD category despite struggling to make their math work. UberEats has inked a deal with rapid delivery operator Shell to enable its customers to order over 750 products and groceries from Little Waitrose, Jamie Oliver Deli and Budgens stores, all within 30 minutes. Within Uber Eats itself, the grocery category has reported a 400 percent growth since last year. 
Deliveroo has launched into the IGD category with its first dark store, Hop, that ships fresh food and other goods in Central London in as little as 10 minutes. Deliveroo entered the category in partnership with Morrisons food and claims that customers will benefit from its grocery management technology, established logistics algorithms, network of over 50,000 delivery riders across the UK and of course Morrisons' food.
Meanwhile, Amazon continues to drive momentum with Amazon Fresh and promises delivery of some items in an hour or less. 
Category king position still up for grabs
We have learnt by now how fast the IGD category is growing and attracting investors. What still needs to be seen is who will emerge the Category King, carve their niche and dominate the IGD space like no other. 
We think Category Design can help achieve differentiation in a crowded market and enable players and brands to monetize and monopolize the category before more competitors enter the growing market. The process of category design can help win more sales, build barriers against competition, and extract maximum economic value. It is fundamentally based on the principle of differentiation. So think about it.